The 12 Houses of Astrology
The Zodiac can be divided into 12 segments or Houses.
The 12 Houses of Astrology represent 12 different areas of our lives.
Like a clock, the Zodiac begins with the 1st House, but unlike a clock, the numbers go around in the opposite direction.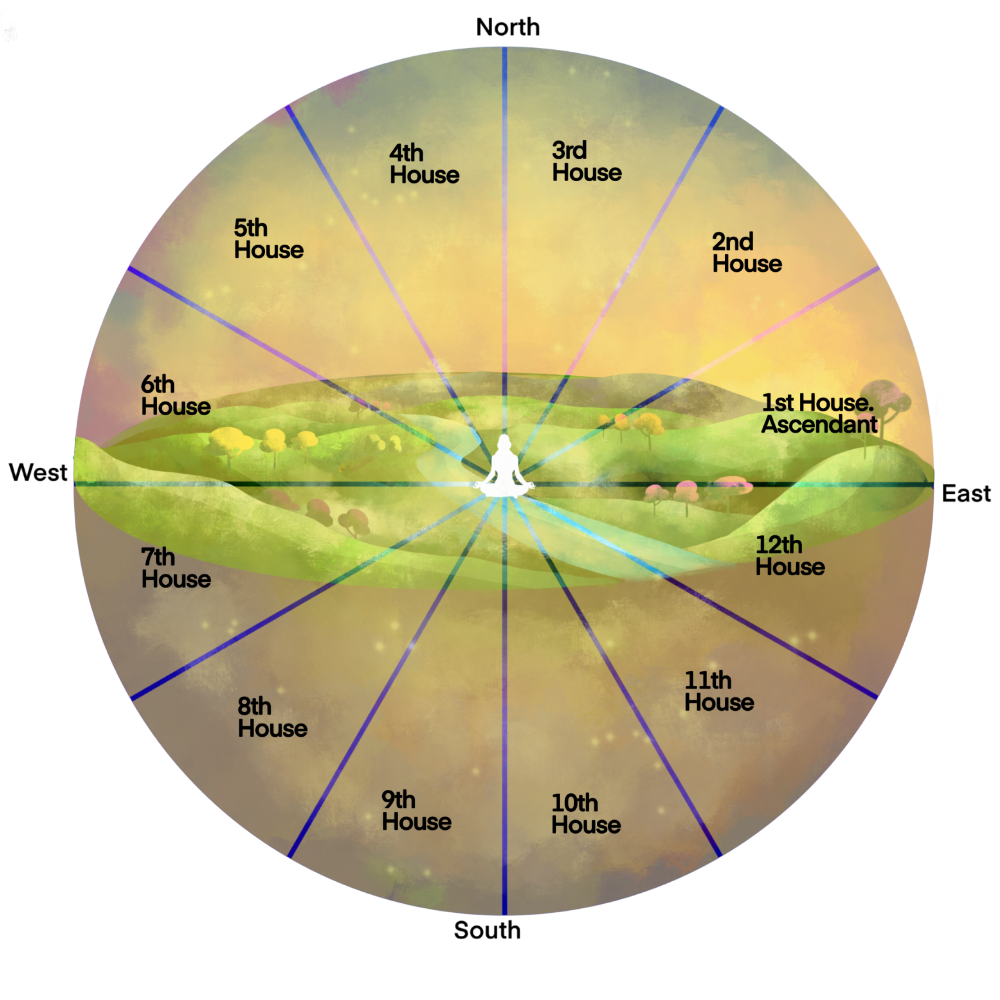 These Houses group together particular fields of experience, understanding and activity in which the energies of the planets have an effect.
They are like stages in a theater where we can view plays relating to particular topics.
We can categorize our experiences and activities into 12 groups, then assign each group to a House.
Each House is associated with a set of traits, beginning from the self, and expanding outward into society and beyond.  At the moment you were born, the planets were all in specific signs and Houses.  When an astrologer interprets your chart, they blend the meaning of each planet, the House it's in, and the sign it's in, to map the obstacles or gifts you'll face in this lifetime.
When planets visit a House, they light up that part of your chart, and energize that House's traits.  Astrologers use the Houses to predict which parts of your life will come into focus, and where you can take the best possible action.  To learn more about a House, read about the sign that's associated with it.
The first six Houses are known as the "personal Houses," while the last six Houses are known as the "interpersonal Houses."
We can also think of them as realms of our experience – the Yin aspect – and the way in which we express ourselves – the Yang aspect.
The following diagram shows how the 12 Houses are arranged in a blank chart.  After the chart is populated with planets and signs according to our birth data, it will be unique to every individual.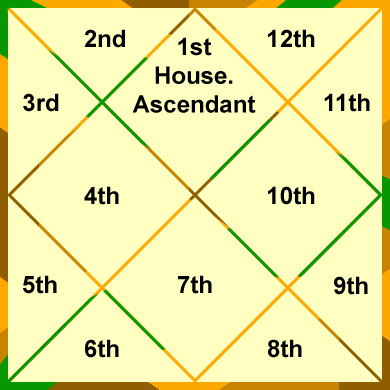 The 12 Houses of Astrology
Here is a summary of the matters dealt with by each House.
The 1st House – Self, Personality and Early Life.
The 1st House is also called the Ascendant because it is the House that was on the horizon at the moment of your birth. 
Attributes most affected by the 1st House are:
Birth, body, brain, character, complexion, conduct, constitution, dharma, dignity, disposition, dreams, early childhood, environment, face, fame, father's mother, happiness, head, health, innate nature, longevity, mother's father, personal appearance, personality, physiology, prosperity, psychology, self-esteem, sense of self-worth, splendor, start in life, strength, tendencies, the constitution, the physical body, victory over enemies, vigor, vitality, well-being and will power.
The 2nd House
–
Speech, Income and Diet.
Charity, cheerfulness, confidence, dependents, domestic-happiness, dress, drink, education, face, family-life, finance, food one eats, fortune, hypocrisy, imagination, jewels, knowledge, learning, literary gift, manner, memory, mental stability, money, mouth, movable property, neck, optimism, orators, ornaments, poets, resources, security, shares, source of death and self-acquisition, source of income, speech, speech defects, tendency to lie, throat, timidity, truthfulness, use of foul language, vision in right eye and wealth. 
The 3rd House – Siblings, Interests and Fine Arts.
The 12 Houses of Astrology has the 3rd House inclined with acting, desires, arms, assistance, bravery, chest, computer skills, courage, dance, death of parents, drama, energy, enthusiasm, excitement, fear, fine arts, hearing, hobbies, initiation, intelligence, interests, letters, life, manual skills, motivation, music, neighbors, one's own efforts and adventure, organizers, pleasures, servants, short contacts, short trips, short-term desires, shoulders, singing, sports, strength, personality, the hands, the right ear, theater, things heard, throat, voice, writings and younger siblings. 
The 4th House – Family Life, Well-Being and Vehicles.
Academic degree, all well-wishers, animals, boats, buildings, cars, comforts, conveyances, devotion to God, drinks, education (to an extent), emotions and passions, endings, erudition, farms, fixed assets, gardens, good name and reputation, graves, happiness and contentment, holy places, houses, immovable/moveable property, journeys, land, luxuries, moral virtues, mother, piety, planes, real estate, righteous conduct, the close of life, the heart and underground treasures.
The 5th House – Children, Investments and Religious Beliefs.
Ability is a vital component in the 5th of the 12 Houses of Astrology. The art of painting or drawing, authority, charity, children merit, fine qualities, fun, gambling, good deeds, government, hospitality, humility, integrity, intelligence, investments, kingship, love affairs, love from spouse, mantras, morals, pleasures, politicians, rewards or credit due from last incarnation, religious practices or rituals, religious-mindedness, romance, rulers, sense of destiny, speculation, spiritual techniques, sports and the mind.
The 6th House – Health, Illness and Legal Affairs.
Appetite, caterers, competitive power, competitors (seen and unseen), cousins, detail jobs, diseases, doctors, employees, enemies, fear, fight, foes, health, hostility, illness, jealous people, daily job, litigations, maids, maternal uncle, medical profession, mental worry, nursing, paternal relatives, pets, restaurants, self-improvement techniques, service, service jobs, preparation of food, sinful deeds, struggle for existence, subordinates, tenants, tendency to be charged in court cases and urge for perfection. 
The 7th House – Marriage and Partnerships.
All partners, breaks of journeys and luxuries, business tact, colon, commerce, conjugal happiness, cooperation, courts, desires,  speculation, diplomacy, domestic harmony, honor, loins, loss, marital happiness, married life, medium-term desires, prostitution, quarrels with the opposite gender, residence in foreign countries, second child, sexual affairs, sexual diseases, sexual passions, the latent energies, the spouse, third younger siblings, trade, travels, urinary organs, veins and waist area. 
The 8th House – Death, Wills and Legacies.
Ability to receive partner's wealth, accidents, alimony, blame, chronic and long-term illnesses of any kind, occult subjects, defeat, degradation, disgrace, experience of death, impediments, insult, insurance benefits, intuition, joint finances, life, longevity, means of death, partner's money, reproductive system, secretive matters, servants, sexual attractiveness, sexual strength, sorrow, the cognition of the structuring dynamics of consciousness, the place and surroundings of death, venereal diseases, wills and legacies.
The 9th House – Good Fortune, Support of Nature, Spiritual Development.
A person's guru, spiritual teachers, charity, children, elders, faith, fortunes, fourth younger sibling, godliness, grandchildren, metaphysical studies, higher education, higher knowledge of all kinds, hips, law, meditation, merits from past lives, morality, performance of good deeds, philosophy, piety, religion, righteous, solutions to problems, support of nature, the father luck, thighs, travel—long journeys, virtue, wife's brother, wisdom, world view and worship.
The 10th House – Career and Profession.
Activities which benefit society, ambition, authority figures, career, dignity, eminent persons, fame, father, good deeds, government officials, grandchildren, happiness, holy pilgrimages, honor, respect from government, knees, life purpose, living in foreign lands, occupation, prestige, profession, professional activities, promotion, rank, reputation, royalty, ruling power, sense of importance, spine, status, success and status in society, the dharma and worldly power.
The 11th House – Gains, Speculations and Friends.
Accomplishments, air travel, ambitions, assets and liabilities, auspicious events, club-life, community, daughters, desires opportunities, eldest sibling, favorites, freedom from misery and pain, friends, gains and profits by any means (wealth), good news, legs and ankles, major goals, mercantile speculations, paternal uncle, scandals and inheritance, sudden financial fluctuations, supplemental monies and wealth from sideline jobs or sudden ventures. 
The 12th House – Losses, Debts and Living Overseas (Last Part of The 12 Houses of Astrology).
Anus, confinement, debts, enlightenment, expenses, Moksha, experience with thieves and robbers, far-off countries, feet, final liberation, hearing, hospitals, life in remote countries, long trips, misfortune, or planes of existence, prisons, salvation, secret enemies, self-realization, sexual pleasure, the bedroom, the left ear, the left eye, the state after death (heaven or hell), vision and "unknown places" (remote expenditure).